Driving Colorado's push for legislation supporting cannabis businesses
Denver-based Medicine Man Technologies (OTCQX:MDCL) has been announcing acquisitions at a furious pace since the passage of Colorado's HB 19-1090 just four months ago. The bill, a version of which had been vetoed last year by former Governor John Hickenlooper, was signed by current Governor Jared Polis on May 29, 2019, along with five additional measures supporting the cannabis industry. HB 19-1090, which will take effect on Nov. 1, 2019, will open up Colorado's cannabis industry to outside investors and enabling increased investment by venture capitalists and private equity firms.
Critically, the bill repeals Colorado state regulations that have heretofore blocked publicly traded companies and venture capital funds from investing and participating in the cannabis market. Medicine Man Technologies co-founder and CEO Andy Williams was a key driving force behind the Colorado cannabis industry's push for public company ownership legislation, and he also sat on the post-legislative rulemaking committee.
"At a time when cannabis is valued at $1.5 billion and is expected to grow to $2.1 billion by 2022 in Colorado alone, this legislation will serve to accelerate Colorado's leadership position in the entire cannabis industry, and those entities fortunate enough to do business in our state – including our own," said Mr. Williams when HB 19-1090 was passed. "This was a tremendous win for the industry and for Medicine Man Technologies."
Ambitious Roll-Up Strategy To Add $170 in Projected Annual Revenue in 2019
The company has been a trusted consultant to the cannabis industry for the past 10 years, but the passage of HB 19-1090 has proven to be a catalyst for the aggressive strategy of acquisitions that will position Medicine Man Technologies as one of the largest vertically integrated cannabis operators in North America. The company has entered into binding term sheet agreements to roll up some of the best-selling cannabis brands in Colorado, encompassing:
12 cultivation facilities

Including Los Sueños Farms LLC, one of the largest cannabis farm in North America with 36 acres of farmland under cultivation and an additional 36,000 square feet of cannabis greenhouses.

Seven proprietary extraction facilities

Including Purplebee's, a family, veteran and woman-owned and operated business whose pure products are extracted using advanced supercritical CO2 technology and never contain hydrocarbons such as butane or other additives.

Seven manufacturers of infused products

Including Medically Correct, one of Colorado's largest edible manufacturers
A licensed producer of incredibles in Colorado
And creators of new brands Quiq and Nove

33 strategically located retail dispensaries

Including five Starbuds-branded dispensaries in Colorado

State-of-the-art manufacturing, research and development lab

MedPharm's Colorado facility has the first and only active cannabis research license in the state.
"The natural progression of the modern cannabis industry is consolidation," continued Mr. Williams. "Our vision for the future of Medicine Man Technologies has always been to bring together a group of experienced cannabis industry pioneers and the leading brands they've created—and we're proud to finally tell the world about this years-in-the-making strategy coming to fruition."
Undervalued versus comparable publicly traded cannabis companies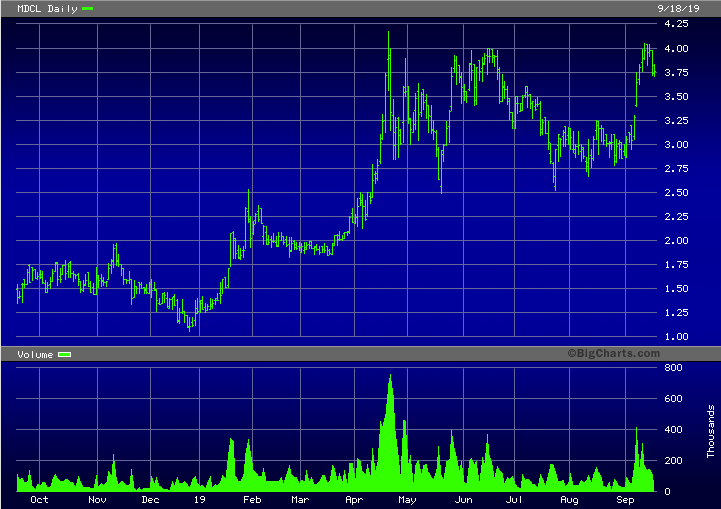 Investors have applauded the company's consolidation strategy, fueling a 29% appreciation in the stock price since the end of August. Even after the rebound to its spring highs, however, Medicine Man Technologies stock remains starkly undervalued relative to its peers.
Based on the closing price of $3.735 per share on Sept. 17, 2019, the stock trades at a 14x multiple of sales, at the bottom of the peer group.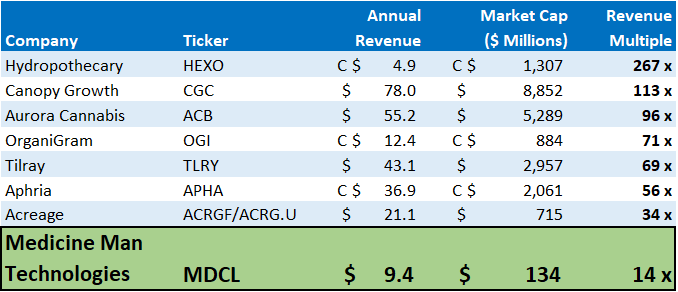 This severe discount may be attributable to several factors, including:
Company is still not a household name outside of Colorado
The long term success of the company clearly hinges on the successful integration and execution of the roll-up strategy
Companies trading on the OTC Market, even the premiere QX tier, get discounted by investors
We note with interest that, in June 2019, the company announced a $14 million investment by Dye Capital, a private equity firm with extensive experience in aggressively growing and scaling businesses in retail and consumer brands. Prior to founding Dye Capital, Justin Dye led the expansion of Albertsons Companies through over $40 billion in acquisitions, divestitures, real estate and financing transactions, growing sales from approximately $10 billion to over $60 billion with over 2,300 stores and 285,000 employees. Mr. Dye, now Chairman of the Board of Medicine Man Technologies, has 25 years of experience in private equity, general management, operations, strategy, corporate finance and M&A, and clearly sees the value in this company.
We believe the gap between Medicine Man Technologies and its larger peers will narrow meaningfully as we approach Q4 2019 into 2020. The timely passage of HB 19-1090 has provided a clear path to growth, and the company's roll-up strategy is the right one in this consolidating industry.
Finally, it is logical to presume that Medicine Man Technologies' future lies beyond the confines of the OTC Market, and we believe that the visibility and liquidity offered by a major stock exchange will bring the company even closer to its listed brethren.
Disclaimer: Please note we have been previously compensated for content posting on MDCL. Please see our complete disclaimer at wallstreetpr.com/disclaimer